Around the Island
Shelter Island Garden Club slates 'Fanciful Flights' flower show and house tour for July 18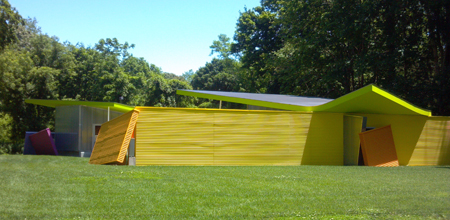 The Garden Club of Shelter Island is sponsoring a standard flower show and house tour on Wednesday, July 18 from 2 to 5:30 p.m., which is open to everyone in the community. The show's theme, "Fanciful Flights," celebrates birds, linking the beauty of flowers to the display of colors and plumage.
The tour will feature three distinctly different houses, along with more than 50 creative flower arrangements relating to all types of native birds, from osprey to egrets to songbirds and birds of prey. Non-members of the club may exhibit in two of the horticulture divisions of the flower show.
The tour begins at the Shelter Island Historical Society, where programs and maps will be available and tea and cookies will be served in a tent on the grounds. The Barn at the Historical Society will also be the setting for various exhibits, among them, Horticulture and Youth, while Havens House will showcase Adult Artistic Crafts and the Garden Club Boutique. The Club's 2012 Christmas ornament featuring a 3D view of Bridge Street, will be available for sale at $20 at the boutique.
The day will include one of the most, if not the most, colorful home on the Island, the Stamberg/Aferiat house on Cartwright Road, recently featured in Architectural Digest. Ultra-modern, the house is unusual because of the mix of the bright colors on its exterior and the abundance of light inside.
The Arnold house on Cobbetts Lane is a 1960's structure that has been remodeled to meet modern sensibilities and to maximize its views of Coecles Harbor. Up in the Heights, the Pike home is a traditional Victorian that has been entirely rebuilt and reinvigorated. The Pike grounds and gardens are particularly lovely and its location on a bluff overlooking Peconic Bay provides spectacular views of the ferries plying the waters across Greenport Channel.
The flower show is staged in accordance with the standards of the National Garden Clubs, Inc. The show's Division I, Horticulture, Section F, "Egrets" Ornamental Grasses and Section G, "Bluebirds" Herbs, are open to exhibit by non-members as well as members of the Garden Club. Contact Christina Cunningham, horticultural exhibit coordinator at 749-0024, for more information.
Tickets are $30 in advance or $35 on the day of the tour. Advance tickets may be purchased at brownpapertickets.com. For more information, call 749-3375 or click here: shelter-island.org/garden_club.