Top News
Raven set free in wrong place: maybe it found the way home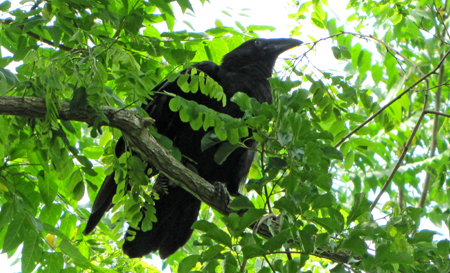 Mashomack Preserve has been the home of a raven in recent weeks but the bird is not typically seen on Shelter Island. A paperwork mix-up at the Evelyn Alexander Wildlife Rescue Center in Hampton Bays resulted in it being released at Mashomack.
Wildlife Rescue Center Executive Director Virginia Frati speculated that the raven may, by now, have found its own way back to Hampton Bays once it was able to take flight and see the layout of the land and water.
"Migratory birds go back to where they nest," Ms. Frati said. "I feel terrible," she said about the mix-up.
On the same day, the raven, with a bum leg, was brought to the Wildlife Rescue Center by an unidentified person, Mashomack natural resources manager Mike Scheibel delivered a Virginia rail there for treatment. The rail is a bird that often remains hidden in dense vegetation and typically frequents freshwater marshes. It was the Virginia rail that was meant to be released at Mashomack Preserve but a records mix-up led to the switch.
When Shelter Islander Patrick Bastible, who is licensed to rescue injured wildlife, was at the Wildlife Rescue Center on another matter in May, he was asked to take the raven to Mashomack Preserve. He carried the bird in a large tub with holes for breathing and rode across on South Ferry with the best of intentions.
When he arrived at Mashomack, Mr. Scheibel wasn't on duty. Mashomack Preserve Visitor Center coordinator Tom Damiani expressed doubts about the bird's origin. But in the absence of Mr. Scheibel, he agreed to allow the bird to released there. The bird rapidly flew up into a tree and perched there for quite awhile.
It was later that afternoon, when Mr. Scheibel told Mr. Damiani he had never brought a raven to the Wildlife Rescue Center, that Mr. Damiani called a reporter who was on site when the bird was released to say that he believed there had been a mix-up.
"I'm concerned for its future," he said about the bird at the time. It would be a long distance for the raven to fly, crossing "a substantial body of water" to return to the Hampton Bays area, where it was found and should have been released, he said.
Since the discovery of the error, Mr. Bastible has made several trips to Mashomack at the behest of the Wildlife Rescue Center, hoping to recapture the bird. But there has been no sighting, Ms. Frati said.
She's hoping the bird did make its way back to Hampton Bays.