Education
Mashomack mission: teach people to care about the outdoors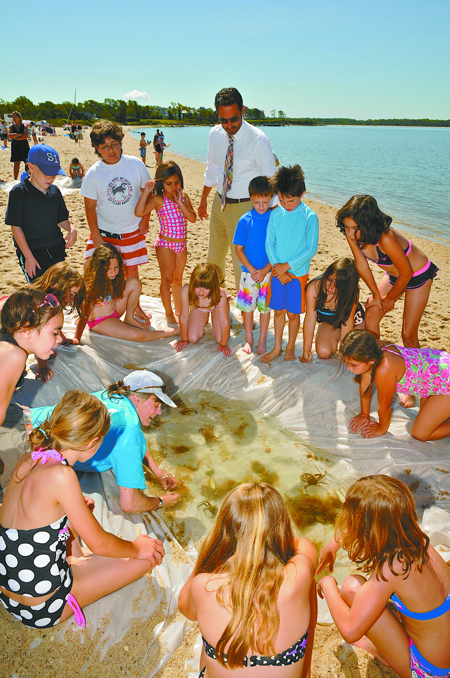 This is the second and final installment of a story that began in last week's edition of the Reporter. The focus last week was on the history of the Mashomack Preserve and the effort to save it from development. To read that article, click here.
From early trail maps drawn by Susan Laspia, wife of Preserve Director Mike Laspia, to today's wide array of educational programs, the emphasis at the Nature Conservancy's 2,100-acre Mashomack Preserve on Shelter Island has always been on community outreach and connecting the people of Shelter Island with the land.
"We are a place-based organization," said Michael McConnell, president of the Preserve's board of directors. "This was never going to be a place that people couldn't use."
Cindy Belt, the education and outreach coordinator, echoed that sentiment. "I was hired specifically to do outreach, something that was unique at the time. The Nature Conservancy is playing a bit of catch up in that regard. They have moved from being a conservation organization to an educational one, a task that Mashomack has been doing for a very long time."
Making these connections with a new generation, one more attuned to technology than nature walks, has taken on a new priority and sense of urgency.
While children are being taught the principles of green living, their involvement with the environment begins and ends, in many cases, in the classroom. "There is a real disconnect between young people and the outdoors," said Mr. Laspia, "Kids today don't even go outside to play in the yard."
Ms. Belt concurred. "They think that they know about nature because they watch the Discovery Channel. But watching polar bears on TV is different from going outside in the cold," she said. These trends have led the staff to increase its outreach efforts to local schools and to develop programs that bring teachers out to the Preserve so they can take the learning back to their classrooms.
"We've also created a program called 'No Child Left Inside' to get kids outdoors, to get them to hold a snail or a fiddler crab, to help them make a connection with the land," Ms. Belt said.
"We need to begin raising the next generation of conservationists, naturalists and, of course, donors," Mr. Laspia declared.
NEW CHALLENGES, RESEARCH
According to Mr. Laspia, Mashomack has been the site of more than 40 research projects over the past 30 years and he is "encouraging more research to happen here." The Preserve's location and relatively pristine nature make it, he said, "a great control area" for a wide variety of projects.
The biggest change in the research area, however, is a growing tendency to see Mashomack in a larger context — or, as Dr. William Zitek, who chairs the Preserve's Nature and Wildlife Committee, put it, "We now consider the region as important as the site. We have moved to a way of thinking in which we are considering the Preserve not only in the context of Shelter Island but Peconic Bay, Long Island Sound and the New England coastline. We know now that nothing operates on its own."
Added Mr. McConnell, "The work we're doing applies to a whole lot of places besides Mashomack, particularly on the marine side. We can and do use Mashomack as a laboratory."
Studying the oak forest has been a long-term project at Mashomack and, with tactics to restore its health having been implemented, attention is now being paid to the restoration of the Preserve's grasslands. This will involve the linking of four sites to create a 75-acre swath of grassland that, once cleared of invasives, will be re-sown with indigenous seeds that the staff spent three years collecting and that are in storage at the National Seed Lab in Staten Island.
"Grasslands are critical for the health of many species," Mr. Laspia declared, "but they are the fastest disappearing lands on earth. Restoring these acres will help attract and protect bird and wildlife that are important for our bio-diversity."
TO PRESERVE AND PROTECT
All of which leads to the proverbial $64,000 question: How much does all of this research and education cost Mashomack and how is it funded? According to Mr. Laspia, the preserve's operating budget is about $1.1 million this year, with another $300,000 to $400,000 in capital expenditures. Every dollar of that money needs to be raised by Mashomack; the Nature Conservancy provides no underwriting or support for annual operating costs.
"When I began working for the Nature Conservancy, one of the first things they told me was that I must learn to be a fundraiser," he said.
The first Preserve budget, back in 1980, was $41,000. "That was even before we had a board, just a steering committee," he recalled. Now there is a 1,700 member Friends organization that helps raise money, most of which comes from the popular summer dinner-dance at the Manor House and an annual appeal. An endowment also provides some funds. "The reason why we are so well supported," said Mr. McConnell, "is that the community really understands our mission is to protect and preserve one-third of the Island."
During the recent recession, Mashomack cut 2.5 staff positions and made other cuts as needed. "We've gone through that cycle several times in the past 30 years; it's nothing new," said Mr. Laspia. "But Shelter Islanders take care of their own. We experienced about a 10-percent fall off in support during this recession but larger, national charities got hit much harder."
In looking at 32 years of projects and progress, Mr. Laspia has no trouble selecting the one he finds most exciting.
"It's seeing the results of the work that we have done on the marine ecosystem. Ten years ago, we had a small role in the shellfish restoration project that has now spread over the East End. It now looks like our shellfish beds are recovering. I like to think we had an impact on that."